Papers of the Piscataqua Pioneers:
The Lamson Collection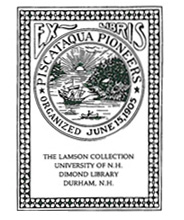 The collection is stored under Piscataqua Pioneers Papers, 1905-1997, MC231, Milne Special Collections and Archives, University of New Hampshire Library, Durham, NH, USA. It is under the management of Bill Ross, Director, bill.ross@unh.edu.
The collection contents are:
Series I - Membership Applications, Filed Alphabetically
Series II - Membership Applications, Filed by Membership Numbers
Series III - Society Information and Secretaries' Minutes
Series IV - Member Created Genealogies
Series IV - Member Created Booklets and Pamphlets
Visit http://www.library.unh.edu/special/index.php/piscataqua-pioneers for a more detailed description of the contents listing Box and Folder Numbers.
Sections of this Collection have restrictions: Membership applications and members' files as well as Secretaries' minutes are open only to members in good standing (dues-paid). To view this collection, contact Nancy Mason, (603) 862-2714, nancy.mason@unh.edu at least 48 hours before you plan to visit UNH. Files are stored off site, and retrieval time must be built into your request.
Detailed instructions for viewing the files can be found in The Lamson Collection document (PDF) edited by Barbara Alex.
Individuals are encouraged to contribute published and unpublished genealogies and
community histories within the Piscataqua region by emailing donate@piscataquapioneers.org.