Annual Meeting 2017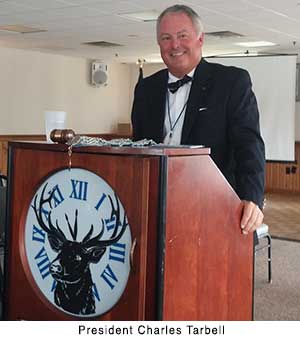 President Charles Tarbell called the 113th annual meeting of the Piscataqua Pioneers to order at 10:00 a.m. on Saturday, July 29, 2017 at the Elks Lodge, 500 Jones Avenue, Portsmouth, NH. Approximately 50 members and guests were in attendance.
Following the business meeting and the luncheon, Wendy Pirsig, a representative from the Old Berwick Historical Society, gave a presentation on the founding of the Piscataqua Region. Following the meeting, all were invited to visit the exhibition, "Forgotten Frontier", at the Old Berwick Historical Society, Counting House Museum, 2 Liberty Street, South Berwick, ME. At this time, a check for $1,000.00 was presented to her on behalf of our society for their "Forgotten Founders" project.
Our next annual meeting will be held July 28, 2018 at 9:00 a.m. at the Elks Lodge in Portsmouth, NH. The guest speaker will be Patricia Q. Wall, author of Lives of Consequence: Blacks in Early Kittery & Berwick in the Massachusetts Province of Maine.
| | |
| --- | --- |
| 9:30  – 10:00  | Registration with coffee, tea, and muffins |
| 10:00 – 11:00 | Business Meeting |
| 12:00 – 12:45 | Buffet Lunch |
| 12:45 – 1:45   | Guest Speaker - Wendy Pirsig on the founding of the Piscataqua Region. |
| 1:45  –  2:15 | Installation of New Officers |
| 2:30 pm   | Adjourn |
| | |