Jane Abbot Jackson, 77, of 9 Sylvan Road, died on Dec. 16, 2012, at Portsmouth Regional Hospital. Born Dec. 7, 1935, in Boston, she was the daughter of the late Davenport and Emma (Johnson) Jackson. Mrs. Jackson attended school in Quincy, Mass., the University of Massachusetts, and was graduated from the Hitchcock Secretarial School and the University of New Hampshire. At various times, she worked as a legal secretary and was an in-home tutor to high school students unable to attend school. She was a member of Phi Beta Kappa, the General Society of Mayflower Descendants, and the Piscataqua Pioneers, in which she served as president.
Piscataqua Pioneers desires to acknowledge funds donated in Jane Jackson's memory from her daughter Beth Fuller of Kittery Point, Maine, Ann Campbell of Exeter, NH, Pamela J. Delaney Office Manager/Treasurer of ESANE (Educational Sales Associate of New England, Inc.) of Foxboro, MA, and Nancy B. Zweig of Wyomissing, PA. Jane Jackson was an active member of Piscataqua Pioneers, serving as President in 1997-­‐1998 and as Director-­‐Class of 2006 and 2007. Jane was an avid writer, writing many articles for our Newsletters and editing others over the years she served. Jane could be seen knitting during meetings, only stopping to share her knowledge and wisdom of Piscataqua affairs when conversations became lively.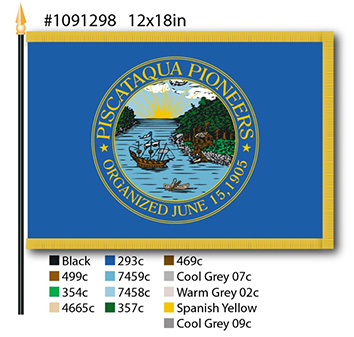 Piscataqua Pioneers wanted to utilize the donated funds in Jane's memory in a way that would keep her memory alive with our members. After several ideas from plaques to benches, it was decided at the October 20th, 2013 Council Meeting to use the donated funds to create a flag from our original seal archived at UNH.
A stand with the newly created Piscataqua Flag and the American Flag will be handed down to in-­‐coming Presidents to display at all our future Annual and Council Meetings. Piscataqua is proud to carry on Jane's memory and all she contributed to Piscataqua Pioneers will not be forgotten.