Our Pioneers
This new section of our website is devoted to our pioneers who settled in the Piscataqua region of New Hampshire and Maine. The biographies and maps are photocopies from our 2000 volume Piscataqua Pioneers. The visuals are provided by members. Use the sidebar menu at left to locate biogrpahies of individual Pioneers.
We begin with William and Humphrey Chadbourne. Humphrey was an early settler of Dover, NH, Sturgeon Creek, Kittery, ME and also Portsmouth, NH.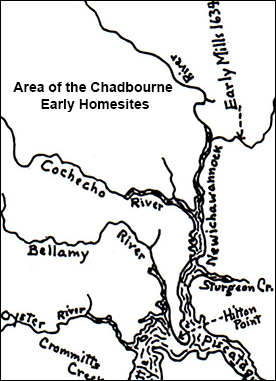 CHADBOURNE, WILLIAM, bap. 30 Mar 1582, Church of St. Editha, Tamworth, Warwickshire, son of Robert and Margaret [Margery](Dooley) Chadbourne. William was the first signer of the Kittery Act of Submission (to Mass.) 16 Nov 1652. Last appearance of rec. 20 Dec 1652 on petn. against Richard Leader. (NLD says 1652 appearances are more likely to be of the son. However NHGR, Oct 1993, p. 167 says the rec. of 20 Dec 1652 is of William, Sr.) Came to Kittery, Maine arriv. aboard the Pied Cow 8 Jly 1634 with James Wall and John Goddard. Housewrights and master carpenters, Chadbourne, Wall, and Goddard were under contract with Capt. John Mason, dated 16 Mar 1633/34, to build mills in Berwick and run them on shares. They built the first water powered saw mill and grist mill in this country. The agreement was to work for five yrs, aft. which they were to have fifty a. of land on lease for the term of three lives (or generations) by the payment of three bushels of corn annually. Chadbourne built a house on his land which he gave to his son-in-law Thomas Spencer. His wife was Elizabeth Sparry, m. Tamworth, Engl. 8 Oct 1609. No rec. that she came to America, but there were 22 unident. women on the Pied Cow in 1634.
Sources: NLD; NHGR, v.10,1993; Chadbourne Family Genealogy by E. C. Bacon, p.1-3. jfg,kc,sfg
Homesite: Part of its foundation is under the present house on the NW corner of Brattle and Vine Streets on the road from the Lower Landing (Hamilton House) to the orig. mill site at Great Works Falls, kc
Children:
1. William, bap. Tamworth, Engl. 30 Sep 1610, bur. there 18 Apr 1616.
2. Patience, bap. Tamworth, Engl. 8 Nov 1612, m. Thomas Spencer, 7 ch.
3. Humphrey, bap. Tamworth, Engl. 23 Apr 1615, m. Lucy Treworgye, 7 ch. See
separate entry under Chadbourne, Humphrey.
4. Susannah, bap. Tamworth, 22 Feb 1617/18, bur. there, 26 Apr 1618.
5. William, bap. 15 Oct 1620, m. Mary —. At least 1 dau. Mary, b. Boston Dec
1644 who m. John Fost.
6. Robert, bap. 1 June 1623, bur. Tamworth 19 Jan 1626/27.
CHADBOURNE, HUMPHREY, son of William and Elizabeth (Sparry) Chadbourne, bap. Tamworth, Engl. 23 Apr 1615, d. Kittery, Maine 1667 (will 25 May - 13 Sep 1667). Bought his first land from the Indian Rowles in 1643, and built his homestead there on neck of land where the Newichawannock and Asbenbedick Rivers converged. Later was an Indian trader and in close relations with them. Grants of 300 a. in 1651 and 1652. He purch. a farm in Dover from Robert Nanny. Also land at Sturgeon Creek, Kittery, from Nicholas Shapleigh, marrying Shapleigh's niece, Lucy Treworgye, dau. of James and Katherine (Shapleigh) Treworgye (NLD). Secondary sources (ADM, p.19 and RP1, p.18) credit Humphrey with construction of the Great House in Portsmouth. Other sources feel that the contract for its construction was given to William Chadbourne and that his son Humphrey "helped to build it" (Chadbourne Family Assn.). Humphrey held several significant public offices in Kittery, serving as town clerk in 1650 and "often thereafter." Selectm. 1651. Comr. on Wells-York bounds 1657. He was appointed a deputy to the General Court in 1657, 1659-60, and acted as com.t.e.s.c. 1657-61. Signed the petn. against the claims of the Gorges heirs in 1662, and was an assoc. judge in 1662-63. In The Tory Lover, Sarah Orne Jewett called him "the law-giver of Kittery." Both Humphrey and Lucy left impressive wills. Lucy m. 2nd Thomas Wills and m. 3rd aft. 14 Mar 1687/88, Elias Stileman. She d. New Castle. Her will (NHSP, v.31,p.452-3) 8 Jan 1699/1700 -13 Apr 1708. Lucy's will names a 5th dau. (by her 2nd husband) Joana (Wills) Cutts. Sources: NLD, p,134,460; Chadbourne Genealogy by E. C. Bacon, p.16-17.
HomeSite: No rec. that Humphrey ever liv. on the "Plott of Mr. Humphrey Chadbournes Farm at Sturgeon Creek," shown 1701 surveyed for town of Kittery for tax purposes. Chadbourne Family Assn. says the Sturgeon Creek Farm was an investment where his son James later liv. Humphrey and Lucy's homesite was on a neck of land where the Newichawannock and Asbenbedick Rivers orig. converged (the land purch. from Sagamore Rowles). Evid. of foundation of home has been found by archaeological dig now being conducted at the site. It is on a nice rise of land overlooking Leigh's Mill Pond in a field behind the Yeaton-Varney farmstand on Vine St. in So. Berwick. Evid. dates the orig. structure c.1644, burned by Indians 1690.

Children:
1. Lt. Humphrey, b. c.1653, d. c.1694, m. Sarah Bolles, ch: Humphrey Esq., b. 2
Sep 1678 (not in 1699/1700 will of grmo.), m. Hannah Abbott; Mary, b. 1680, m. William Dyer; William, b. c.1683, m. Mary Nason, 10 ch.; Elizabeth, b. c.1687, m. Amos Fernald; Capt. Joseph, b. c.1690, m. Sarah Phipps, 9 ch.

2. James, b. c.1655, m. Elizabeth Heard/Hurd, ch.: Lucia, b. 1681, m. Jeremiah
Calef; James, b. 29 Sep 1684, m. Sarah (Hatch) Downing, 7 ch. Elizabeth (Heard) Chadbourne m. 2nd Samuel Small.

3. William, b. c.1657, d. bef. 8 Jan 1699/1700.

4. Lucy, b. c.1659, m. 1st — Landall, m. 2nd Michael Hicks, m. 3rd Peter Lewis. (NLD questions Landall mar. However, Lucy (Treworgye) Chadbourne Wills Stileman names grson Thomas Landel in 1699/1700 will.)

5. Alice, d. 18 June 1744 in 81st yr., m. 1st Hon. Samuel Donnell, 8 ch. She m.
2nd Jeremiah Moulton, Esq. of York.

6. Katherine, b. c.1665; m. 1st Edward Lidden [Litton/Lidston(e)], 2 daus. She
m. 2nd James Weymouth, 3 daus.

7. Elizabeth, b. aft. 25 May 1667 (posthum.) m. Capt. Samuel Alcock; 1 son.
The Humphrey & Lucy Chadbourne Archaeology Site
Earline Chadbourne, our President, 2009-10, asked Emerson W. "Tad" Baker, Ph.D., Professor of History Salem State College to be our guest speaker for the 2010 Annual Meeting. The pictures below are related to his presentation about the Chadbourne settlement site and include relics found in the archaeological digs that Dr. Baker and his crew have performed in recent years at the site. We are indebted to him for permission to use them here.
~ ~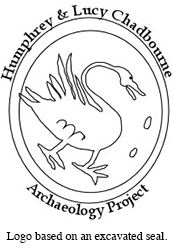 2007 marks the thirteenth season of excavation at the Chadbourne Site (ca. 1643-1690) in South Berwick, Maine. This project of the Old Berwick Historical Society and the Chadbourne Family Association is directed by Emerson W. Baker, Ph.D., Professor of History at Salem State College. Since the site was discovered in 1995 every summer a team of archaeologists and volunteers return to work on the well-preserved remains of this early homestead.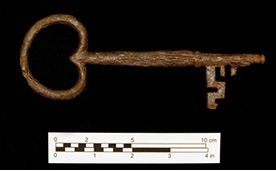 These two artifacts were uncovered at the archaeological site that was the manor home of Humphrey and Lucy Chadbourne. This front door key and a corresponding door lock are examples of the many artifacts recovered from the site that are building materials and hardware.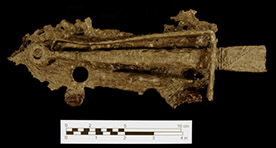 As the dig website notes, the site "was discovered in 1995 and excavations continued through 2007. Lab work continues, in preparation for an exhibit and publication. This project of the Old Berwick Historical Society and the Chadbourne Family Association is directed by Emerson W. Baker, Ph.D., Professor of History at Salem State College." More information about the dig can be found on the website.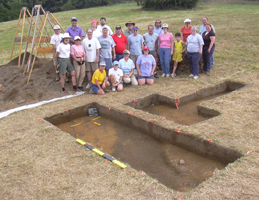 A majority of the volunteers for the 2004 season stand behind the unexcavated sill trench for the western end of Structure 1 (it is the dark line that runs diagonally across the excavation unit).