WIGGIN, CAPT. THOMAS, gentleman. Witn. delivery of the Vines patent 25 June 1630, and of the Hilton patent 7 Jly 1631. Of Piscataqua 22 Oct 1631. In Engl. 1632, estimating the English in New England as c.2,000, granted a patent by the Council of New England. In Mar 1632-33 was called the chief agent (in Engl.) of the honest men about to buy out the Bristol men's plantation at Piscataqua and plant 500 people bef. Michaelmas. Winthrop, 10 Nov 1633, rec. his arriv. at Salem in the J ames with c.30 men, includ. Rev. William Leveridge. Went directly to Piscataqua. Opposed to Mason's claims, he became a strong adherent of Mass. and helped in extending their power. For a long time his lands in what became Stratham were outside the bounds of any settled town. Ordered taxed in Hampton 1657, and moderator there same yr. Commissioner for Piscataqua court, assistant, j .p. His wife Katherine Whiting, sis. of Mr. William Whiting of Hartford. Will, of Squamscott (Stratham) and aged, 16 June 1664. (prove d 1666), wife Katherine surv. Sources: N LD; PR67; DOW; EX; STRM . sfg
Homesite: Settled at Squamscott ( Stratham). Paid taxes to Hampton from 1656 to 1692 (DOW, p. 1042).
Children:
1. Andrew, age c.65 in Aug 1700, d. 9 Jan 1708/09, m. at Andover June 1659
Hannah Bradstreet, dau. of Gov. Simon. 11 ch. in N LD, among whom was
Jonathan who m. Mary ( Emery) Wiggin, q.v.

2. Mary, m. 1st George Veasey, m. 2nd 7 Oct 1673 Capt. William Moore.

3. Thomas of Sandy Point, ae 26 in Mar 1666, c.42 Nov 1684, c.60 Aug 1700, m. by 1665 Sarah Barefoot, sis. of Capt. Walter Barefoot, 4 ch . NLD.

Above is the original location of Stratham Cemetery. Most of the old stones were removed by the church at the turn of the 20th century because they were broken or unreadable. The oldest readable stone of the remaining 12-14 is dated 1764. There is no stone for Thomas Wiggin. (Source: findagrave.com source of millions of cemetery records.)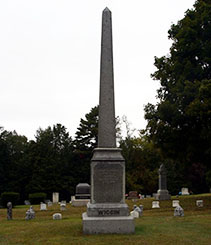 In the Greenwood Cemetery in Stratham, NH, there is a prominent obelisk in the center of the lot, erected by Andrew Wiggin, 1826-1888, on one face of which is the following inscription: Hon. Andrew Wiggin, 1635-1710, Son of Gov. Thomas Wiggin and sole owner of all the land called Quamscutt; now comprising the town of Stratham. Erected by his descendant Andrew Wiggin, 1886.