PEPPERELL, COL. WILLIAM was b. 1646-47 in Tavistock Parish, Plymouth, Devonshire, Engl. He came to the Isles of Shoals c.1676 and was engaged in a fishing business with Ambrose Gibbons. (His house site on Appledore Isl. is marked by a bronze tablet.) In 1680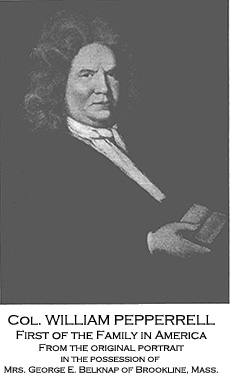 he mov. to Kittery where he m. Margery Bray, dau. of Capt. John and Joan (Hooper) Bray. Margery was b. c.1660. Her father, John Bray, was a prominent Kittery shipbuilder whose homestead, built in 1662, is still standing on Pepperell Rd., the oldest standing home in Maine. Col. William Pepperell purch. property from Thomas Langley adjacent to the Bray homestead and built the Pepperell home. He was a selectm. 1693-94 and 1698-99; moderator 1695-99; county treasurer 1696; judge 1699. He served for 35 yrs as Justice of the Peace. He also served as a colonel in the militia and his house was listed as a garrison during the Indian Wars. He and his son William were instrumental in the building of Fort William in 1714 (renamed Fort McClary aft. the Revolutionary War hero Andrew McClary). Col. Pepperell became a shipbuilder, the owner of one of the great colonial shipping firms from which he accumulated much wealth, most of which passed to his son Sir William Pepperell . Col. William Pepperell d. 15 Feb 1733/34. His wife Margery d. 24 Apr 1741 age 81.
Sources: NLD; John Eldridge Frost, Colonial Village; Byron Fairchild, Messrs. William Pepperrell.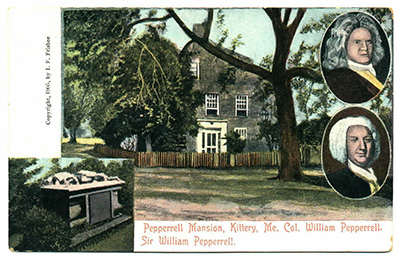 Homesite: The Pepperell Mansion, built in 1682, is still standing in Kittery at the intersection of Pepperell Rd. and Bellamy Lane on the shore of Pepperell Cove. (The Pepperell Mansion should not be confused with the Lady Pepperell Mansion, also in Kittery, which was built by Lady Mary Pepperell in 1760 aft. the death of her husband, Sir William Pepperell.)

Children:
1. Andrew, b. 1 Jly 1681, m.1707 Jane Elliot, dau. of Robert and Margery (Batson) Elliot. She was b. 1684. Andrew d. 1713. His wid. m . 25 Nov 1714 Lieut. Charles Frost, b.1678, d. 1724. She d. 1749; 2 ch.: Sarah; Margery.

2. Mary, b. 5 Sep 1685, m 1st 4 Sep 1702 Hon. John Frost of New Castle (1681- 1732), 17 ch. She m. 2nd 12 Aug 1745 Rev. Benjamin Colman. He was b. in Boston 19 Oct 1673, d. 29 Aug 1747. Shem. 3rd 6 Oct 1748 Rev. Benjamin Prescott, b. Concord, Mass. 16 Sep 1687, d. 1777. She d. 18 Apr 1766.

3. Margery, b. 15 Sep 1689, d. 1769, m. 1st 4 Nov 1706 Peletiah Whittemore. He was b. 7 May 1680 and was lost in a shipwreck near Isles of Shoals in 1724. 5 ch. Shem. 2nd Elihu Gunnison Sep 1730. He was b. 1676, d. 13 Sep 1752.

4. Joanna, b. 22 June 1692, d. 1726, m. 20 Mar 1710/11 Dr. George Jackson, Jr.

5. Miriam, b. 3 Sep 1694; m. 25 Apr 1715 Andrew Tyler of Boston. He was b.1692, d. 1741. She d. 1766. 9 ch.

6. Sir William, b. 27 June 1696, m. 16 Mar 1723 Mary Hirst , dau. of Grove and Elizabeth (Sewall) Hirst of Boston. She was b. 1704 and d. 25 Nov 1789. He d. 6 Jly 1759. 4 ch.: Elizabeth, b. 29 Dec 1723, m. Nathaniel Sparhawk, Esq.; Andrew, d.1751; William, d.y.; Margery, d.y. Sir William Pepperell was a prominent member of his father's shipping and mercantile empire, and he took over the family business upon his father's death in 1734. He served for 27 yrs on the Mass. Governors Council, and, for a few months, was acting governor of Mass. In 1745, with Engl. and France at war, Gov. Shirley appointed him Commander of the Colonial Force to attack Fort Louisburg, the French stronghold on Cape Breton Island. The fort surrendered on 17 June 1745. The successful conclusion resulted in Pepperell becoming the first American to be created a British baronet and the first American to become a general in the British Royal Army (as opposed to a colonial militia).

7. Dorothy, b. 23 Jly 1698, m. lst on 26 Mar 1719 Capt. John Watkins (1693- 1723) of New Castle, 3 ch. She m. 2nd Hon. Joseph Newmarch. He was b. 29 Oct 1707, d.1765. She d. 8 Jan 1763.

8. Jane, b. 2 June 1701, m . 1st 30 Nov 1720 Capt. Benjamin Clarke. He was b. June 1695, and his will was admin. 28 Dec 1730, 2 ch. She m. 2nd William Tyler, b. 1688, d. 1758. She m. 3rd on 21 Aug 1760 Rev. Ebenezer Tirrell, b.1701, Medford, d. 1778.