Incoming President's Comments
by Tylene Jousse on July 25, 2015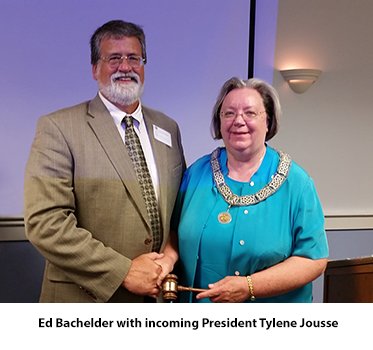 As your newly elected President, I hope to honor our ancestors in many ways. I have chosen a theme for my term of office. "Keep Moving Forward." These words mean a lot to me and remind me every day to do just that—"Keep Moving Forward." During my term of office, it is my plan to keep our organization moving in a forward motion in many ways. Whether it be with our web site, the collection at UNH Special Collections, or gaining new members to name a few.
President's Action Plan
1. Went into effect right away by welcoming the new officers you have chosen for me to work with and giving each of them a copy of their job descriptions in the By-­‐ Laws. This way we each have a greater understanding of our jobs.

2. To assist us to continue our leap forward into the technical fields of research. In the past we have used books as our means of research. This method is still used today, but with the addition of the Internet our methodology has changed. It is important for us to do the same. Change is tough for us all.

3. To reinstitute a yearly Budget, keeping an ever mind on the bottom line and keeping us "Moving Forward." (We have asked our new Treasurer to present us a Budget for 2016/2017 with some line items the Council felt important to add.)

4. Moving us forward with the Past President's Project has begun already. (Past President's Committee has been formed and they will report to us at the May Council Meeting.)

5. From Object #8. (below) "To cooperate with other organizations with similar interests so that we may be mutually helpful in these matters." How can we do this? One way is to ask other Family Associations and area historical societies to join us at our Annual Meeting., a win-­‐win situation for us all. This topic was brought up at the last Council meeting in May. A list has started and "Keep Moving Forward" on this would gain new members and educate the community about our organization. (A letter is being formed to extend an invitation to our upcoming Annual Meeting July 23, 2016, to be sent out prior to December 1, 2015.)
All of these plans take teamwork by caring members such as yourselves. We each joined this society for similar reasons. Honoring our ancestors! Our Founding members drew up a Mission Statement and Objects for our Society. Our goal as a Council will be to follow these objects.
Objects of the Society
The objects for which this Society is established are primarily for securing and preserving the records of the pioneers of the Piscataqua area in Maine and New Hampshire and of their descendants in the following particulars:
1. To be an historical society as well as a genealogical and biographical association.

2. To propose, as an organization, regular visits to historical points of interest.

3. To promote the acquaintance and good fellowship of its members generally in these matters.

4. To learn the names of the earliest European settlers on both sides of the Piscataqua River within the limits of the Piscataqua Plan or Piscataqua Settlements and contiguous territory from the earliest times to July 1776.

5. To learn the contributions of these settlers to the advancement of civilization including its industry, literature and arts

6. To trace the settlers and their descendants.

7. To provide for the assembling and publication of such information as may be secured to the end that those generations who come after us shall not be ignorant of those who first dealt with the wilderness and who established homes in the New World.

8. To cooperate with other organizations with similar interests so that we may be mutually helpful in these matters.

When I proposed my action plan to your Council at our October meeting all were in favor. They also are very excited about so many prospects for your involvement in our Society even though you live away. My plans are aggressive and ambitious. My term is only for one year; aren't you glad! Please help our Society to "Keep Moving Forward" and growing. A sincere thank you for the work you have done and or about to do for our society.