Annual Meeting Program 2012
The annual meeting of the Piscataqua Pioneers was held on Saturday, July 28, 2012 at the Regatta Banquet and Conference Center, 28 Levesque Drive, Eliot, Maine.


The speaker was J. Dennis Robinson, a full time popular professional local history writer who is owner and editor of SeacoastNH.com, one of New England's most popular regional Web portals. A teacher, columnist, lecturer and video producer, he has published over a thousand articles about Maine and New Hampshire history and culture.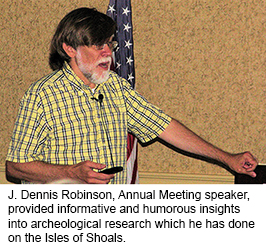 He has written many books, the latest being America's Privateer – LYNX and the War of 1812. He is currently working on another book, Under the Isles of Shoals, a story of the excavation of an ancient Indian village approximately as old as 800 – 1200 AD on Smuttynose Island, one of the Isles of Shoals. He discussed this excavation with us and showed us slides. He lives in Portsmouth with his wife Maryellen.