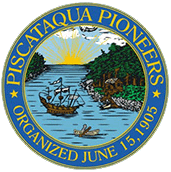 We are a unique historical and genealogical organization extolling some admirable New England first settlers, our pioneers. If you are a member, we hope that it will help you to re-establish yourself as a descendant of a pioneer. If you are not a member, we want you to find your similar roots with us and then find a home with us. Look at our map and understand the interesting geography of the Piscataqua region. Find Portsmouth, NH and Kittery, ME, two of our principal settlements at the mouth of the Piscataqua River. Find the seaside communities of New Castle, Rye and Hampton, NH and of York, ME. Follow the Piscataqua River up to Dover, NH or next by the Great Works and Salmon Falls Rivers to Berwick, ME. Find how valuable the Great Bay was in the settlements of Newington, Greenland, Newmarket and Durham, even to Stratham and Exeter, NH. This was the home of our ancestors.

Notice that we have a registrar to assist you in becoming a member of our society. We also have a preliminary application form on our website to expedite the matter of becoming a member.
If you are looking for sources to help you learn more about your Piscatqua ancestors we recommend that you read the Genealogical Dictionary of Maine and New Hampshire; Rambles in Portsmouth; Old Kittery and Her Families; or the History of Hampton, NH, for example. You may also want to purchase our wonderful volume, Piscataqua Pioneers: Selected Biographies of Early Settlers in Northern New England, Portsmouth, NH. There are many sources that give insights into the early Piscataqua Pioneers.

On our website is a unique feature, a genealogical Queries column. Please use the email address query@piscataquapioneers.org to submit inquiries about some of your lost Piscataqua ancestors.

Although we have one annual meeting, there are many ways that you can become involved in our society. Our website is updated frequently, so please visit it often to read the latest news and information.